First Ever Book on IEMT - NOW AVAILABLE
Orders placed directly on this site are for purchase and delivery in the UK ONLY.
UK Price including P&P: £19.99
BUY NOW
Worldwide purchases available via
Amazon
I am really excited to announce the release of: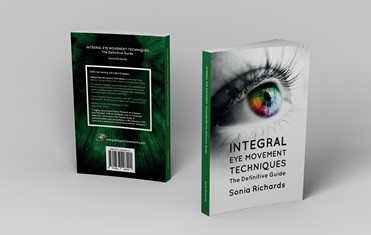 Integral Eye Movement Techniques - The Definitive Guide
This amazing modality now has a companion book for Practitioners, as well as for others who wish to discover IEMT and know more.
The book covers the entire Level 1 syllabus as well as some background information, including the history of the development of IEMT, some relevant neurophysiology, accurate at the time of writing.
I have also included some exploration of identity philosophy looking at the influence of David Grove and others and the process by which we can start to update and integrate peoples sense of their own identity with respect to themselves and others.
The innovative models for chronic behavioural patterns, trauma and anxiety work are discussed as well as how to incorporate the interlinking of the models within this work.
Finally I cover on-line working with clients and dealing with abreactions. I was the first person to run successful trials for on-line working with IEMT, plus the first live on-line Trainings, so have several years of experience with this.
I hope you find this useful and an enjoyable read.
BUY NOW